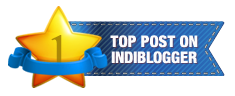 Movies I have always enjoyed. Ah! Many of them. Below are two movies which I just love to watch again and again.
1. Dilwale Dulhaniya Le Jayenge (The Brave Hearted Will Take Away the Bride)
Voted Fa
vruite Indian film of past 100 years
, DDLJ is one movie which has made its way to every Indian heart. Believe me, till date, i have not found a single person who did not liked the movie.
Simple family values exxegerted to their length, idiotic comedy, drama and most important love is captured beautifully into it. Mesmerising locations across Europe and soothing sarsoon fields in India makes it an eye candy. Honestly, I have lost the count on how many times I have seen it. even today, if I ever switch channels and DDLJ is running anywhere, my remote stays untouched till it gets over.
The song "Mere khawabon mein jo aaye" became the anthem of all teenage girls that time. It had the heroine dancing in rain in white dress - best - she looked pretty and not sensuous. I had the full song by heart and ha sung it for years.
'Senorita' became the synonym for the words like darling, baby honey etc.
"It's Ok."- had been the custom reply to sorry. DDLJ changed it to - "Bade bade deshon mein aisi choti choti baatein hoti rehti hai." (In big-big countries such small-small things keep happening.)
Every second couple in county has the dream to run and hug each other in the middle of a bright yellow sarson ka khet (Mustard field).
The copies of poster picture with Simran in green traditional Punjabi bridal dress on the shoulders of Raj has lost it's count over the decades.
Needless to mention the most famous train chasing sequence. Many attempts have been made to recapture the scene, but all in vain. No one can hold the heroine hand like Raj held Simran. No heroine has ever run with half her heart as simran did.
It is the longest running movie in the history of Indian cinema, completing 1000 weeks of successful run on 12th December 2014. Till date people flock to the 'Maratha Mandir' where this movie is screened and enjoy it just as much as they did when it was screened for the first time.
DDLJ has won following major awards:
Film fare Awards
Best Film - Yash Chopra
Best Actor - Shah Rukh Khan
Best Actress - Kajol
Best Supporting Actress - Farida Jalal
Best Comedian/Comedienne - Anupam Kher
Best Director - Aditya Chopra
Best Lyricist - Kumar Sanu - For the song - "Tujhe dekha to"
Best Playback Singer Male - Udit Narayan - For the song "Mehndi lagake rakhna"
Best Dialogue - Aditya Chopra and Javed Siddiqui
Best Screenplay - Aditya Chopra
Nation Film Award for best popular film
2. QUEEN
A shy middle class girl Rani, gets the shock of her life when her finance walks out of marriage just two days before the D-day. She decides to set out on her honeymoon alone to Paris and Amsterdam. The journey sets out to be a milestone of new Rani. She rediscovers herself, make new friends and finally kicks the jerks ass.
Although released recently, I just admire the movie. It's a must watch for every girl either married or unmarried.
The girl gets drunk for the first time - that too to her length. I had this wish for so long - "At-least ek baar pe k talli hona hai". Rani dancing in front of a complete stranger just outside the bar on - "Hungama ho gaya" and confirming - "Ab aayi baat samajh me?" was hilarious.
There are so many instances, every girl would identify with one or the other - boyfriend asking not to dance openly to be named one.
It has a lesson for life - 'we always think that we have the worst situation and life had treated us bad. We feel this only till our eyes and heart open up to problems and sorrows of other's life."
"Mera haal na gupta uncle jaisa ho gaya hai. Gupta uncle ko na cancel ho gaya. Gupta uncle ne kabhi sharab nahi pi, cigerete nahi pi, fir bhi cancel ho gaya. Is se accha to pi hi lete."
This post was written for IndiSpire topic - "Let's relive the movies we've always enjoyed..the movies we saw, loved...cherished for life! Blog about the movies we can relive this festive season!" on Indiblogger.
I am sure you would be having some all time favourite movie. I would definitely like to know that. Reply in the comments section.